We Offer Three Types of Training to Serve Your Needs. Group Obedience Classes, Private Lessons, and Boarding & Training. Below are Detailed Descriptions of all Of these services:
Group Obedience Class Descriptions
Group Classes Cost $100 and classes meet once a week for an hour.
All classes are 6 weeks long, except for Competition classes which are 7 weeks long.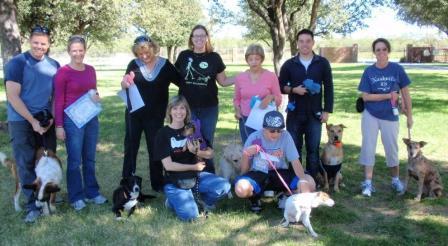 Puppy Kindergarden is for puppies 8 weeks - 4 months of age. Get your puppy started off on the right foot & prevent problem behaviors from ever starting! This class focuses on socialization, housebreaking, and basic manors. We also do the AKC S.T.A.R. Puppy certification. Your puppy could win a medal!
Basic Obedience is for dogs of all ages. Learn how to teach your dog basic commands. This class focuses on loose leash walking, sit, down, here, etc. We also cover common behavioral problems such as jumping, chewing & housebreaking.
Intermediate Obedience is for students who have already attended Basic class. We further the concepts learned in Basic Class including longer stays and more polished heeling. It is also a preparatory class for the AKC Canine Good Citizenship test!
Rally/Novice Obedience is for students wishing to learn how to show their dogs. This class is great for those new to competitive obedience & those wanting a good foundation for agility or traditional obedience competition. It is also great for students not wanting to compete, but want their dogs to further advance the skills learned in Basic & Intermediate classes.
Tricks-4-Treats is for students that have attended Basic classes and want to learn how to teach their dogs fun tricks and agility foundation skills! This class focuses on learning training techniques such as shaping and target training. You'll learn how to teach countless tricks like play dead, roll over, ring a bell to go outside, and much more
Agility-for-Fun is for students wanting to learn how to teach agility obstacles. This is a recreational fun class that gives you the skills to teach your dog the agility obstacles in a safe and fun way!
Our Agility-4-Fun Class is only taught in the Spring and Fall. Tricks-4-Treats is offered in the Summer only. Higher level Competition Obedience Classes are offered when we have a group of 3 or more students that wish to attend.
Private Lessons
Private Lessons are $50 an hour unless you need us to come to your house in which case it is $60 an hour. We teach our private lessons on Wednesday in the afternoon and evening. Private lessons are great for clients who cannot attend group classes because of schedule conflicts or who have a dog with behavioral issues that need to be addressed before they can attend group classes. We usually work with clients once every two weeks for private lessons. To make an appointment for a private lesson please call Linda at 432-563-1836.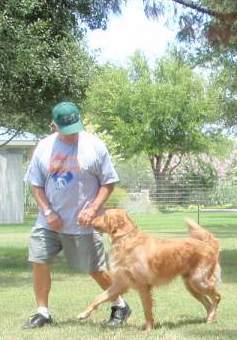 Commonly Asked Questions About Group CLasses and Private Lessons:
Question: Do I Drop My Dog Off with You during this Training?
Answer: NO! This type of training is actually mostly about the person! I will be teaching You how to train your dog during our lessons and then you will be practicing at home with your dog until the next lesson. All our training builds on the previous lessons. So you will be learning more advanced things each time we meet.
Question: What if I have to miss a group class?
Answer: I strongly encourage all my students to have good attendance. (I can't train you if you are not here) However, sometimes an absence is unavoidable and I have notes that I can give you that go over what you missed in group.
Question: What equipment do I need to have for training?
Answer: Like us, our dogs are high individual and ther is not any one training tool that works best for all dogs. I like to see a clients dog first and then I show them what equiptment will work best for them. We will do this first thing with Private Lessons and in Group classes we will address this issue on Orientation day the fist day of Class.
Boarding and Training Services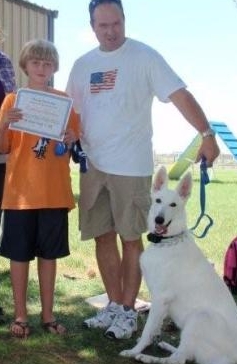 Linda is widely known for her success in her Boarding and Training. Dogs are sent to
us from all over the United States to train here. In our Beginner Dog program dogs learn to Sit & Down on Command until Released, Come off leash, Heel, Go to and Stay on a Doggie Bed, to leave an objection alone when commanded, to watch their handler when commanded, and they are crate trained. In our Intermediate Dog program dogs learn to do the previous commands entirely offleash and are taught all the skills needed to attain their Rally Novice and Companion Dog Obedience Titles.
We also offer force fetch and e-collar training for hunting dogs.
Our Board and Train Services are $600 per month plus the owner supplies the dogs food. Our Full Beginner Dog and Beginner Hunting Dog program is 8 weeks long and our Full Intermediate Dog program is 8 weeks long plus dogs have to have either been previously taught all the Basic skills or go through our Basic Program.
We can also customise a training program to your individual goals and to your dogs needs. Some clients just want their dog to stop pulling on the leash and come when called, while others want their dog fully trained and proofed in all their commands; whatever your training goals are we are here to help you reach them! Clients are required to come our for training sessions near the end of a dogs stay with us, so that we can teach them how to maintain what their dog has learned and how to properly give their dog his commands. All dogs must be fully vaccinated before arrival including Kennel Cough.
The most commonly asked question about our Boarding and Training other than what we teach the dogs is if we will keep
a dog for training for just a couple of weeks. We will not do this because we do not feel like it is fair for the dog to "pressure" them into learning and I do not like having to use more force than needed to teach a dog. In addition I do not feel like it is fair to the client because a dog cannot become fluent in his commands in such a short amount of time. Dogs are situational learners so we must teach them and then reienforce what we have taught in many different situations and environments. Good Training takes time. Therefore the minimum time a dog can go through our training is 4 weeks, we do not take dogs for shorter periods of time than that. There is usually a waiting list to enter this program. We limit the number of dogs that we accept into our Boarding and Training programs because it is our goal to train high Quality dogs over high Quantity of dogs.
If you are interested in having your dog trained by us please call Linda at 432-563-1836.